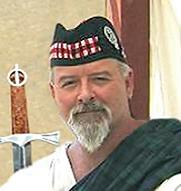 Custom handmade knives and high performance cutlery for hunters, collectors, and chefs
All content and images Copyright 2002 ~ 2021, and may not be used without permission
Michael H Mara sales@radharcknives.com
(708) 969-2424
You can follow me on Instagram and Facebook if you would care to
The knife was the first tool invented by humans, be it a chipped rock or sharpened piece of bone. Knives make every other tool possible. The knife is the most primal, useful, and functional of tools, and is most likely used by more people on a daily basis than any other.
Welcome to the home of Radharc Knives. I am a custom knifemaker that hand crafts a variety of different knives, some strictly utilitarian, and some highly artistic knives. Every once in awhile, I make a very unique, one of a kind knife, as the fancy strikes me. In my knifemaking, I use the finest cutlery steels available (440C, ATS34, 154CM), as well as simple alloy, high carbon steels (1075, 1084, 1095, 5160) for the knife blades, combined with a wide selection of exotic hardwoods from around the world in the handles. The blades are hardened and tempered to a high level of performance, for superior edge holding capability and rugged durability. I hand forge a limited selection of my own Damascus (pattern welded) blades, and enjoy working with customers to design a unique knife just for them. Feel free to browse around the site, and email me with any questions, or to arrange a commission or purchase. Hunters, how would you like a special knife made with antler scales or a handle, from one of your bucks? All of my knives are handmade, by me, in the USA. Contact me for pricing and details.
I am happy to ship internationally. I have sold and shipped knives to Australia, New Zealand, Britain, Canada, Sweden, Finland, Malaysia, Denmark, Switzerland, Iceland, Germany, UAE, and many other countries. I check first to see if there are any import restrictions in the destination country, and international shipping tends to run between $35 and $95 (with insurance).
All my knives come with a Lifetime Guarantee